Company Registration Singapore: Procedure and Documents List
Last modified: June 1, 2018
Every individual entrepreneur or company must follow some initial and ongoing regulatory obligations for starting a business in a new jurisdiction. Singapore is no exception as it has its share of its own compliance requirements. As a matter of fact, these legal compliance requirements help the authority in maintaining a lawful business environment. The Singapore company registration process is as per the Companies Act, Cap 50.
The Accounting & Corporate Regulatory Authority (ACRA) oversees the rules and regulations vis a vis company registration in Singapore. If you are planning to start a new or relocate an existing company to the city-state, make sure to fulfill the requirements dictated by the law prior to starting your business activities or operation.
Private Limited Company: The Popular Business Vehicle
The private limited company is the attractive business structure for the majority of entrepreneurs, due to its scalability. It has a distinct legal identity, and the liability of the shareholders is limited to the amount they invested in purchasing its shares. If properly structured, a private limited company could be a highly tax efficient business entity. As per the law, any person regardless of nationality (domestic or foreigner) above the age of 18 years can incorporate a company in Singapore.
Also Read:  Company Incorporation Singapore: Selecting Right Business Structure
Let us leaf through the complete guide to company registration Singapore.
Pre-Registration: Things You Should Take into Consideration
Company Name: The company name must be approved by ACRA. It should be done before filing the registration application with authority.
Directors: At least one resident director should be appointed. A Singapore citizen, PR (Permanent Resident) or bearer of Employment pass or EntrePass can act in this capacity. The minimum age of the directors should be 18 years. A bankrupt or legally convicted person cannot be a director of the company. There is no cap on the maximum number of the directors. Even foreigners can become additional directors of the company. A director can also be the shareholder, but there is no any compulsion for that.
Shareholders: A Singapore company can have 1 to 50 shareholders. Both individual or corporate entity can be the shareholder. There is no restriction on foreign shareholding; it can be as much as of 100%. The issue of new share or transfer of existing shares can be done anytime after company incorporation.
Paid-up Capital: The minimum paid-up capital required for Singapore company registration is just S$1. The paid-up capital can be increased at any point in time after incorporation. There is no concept of authorized capital in Singapore.
Registered Office Address: Having a locally registered company address is mandatory. It must be a physical one; a P.O. Box address is not considered valid. With due permission from the concerned authority, one can use of residential address as the registered office address.
Company Secretary: Appointment of a qualified company secretary is mandatory as per the Section 171 of the Singapore Companies Act. It must be done within six months from the date of company incorporation. A company secretary should be an individual who is ordinarily resident in Singapore.
Quick Facts for Foreigners:
The foreigners might find the process of company registration in Singapore a bit tricky at the initial stage. However, if they stay updated with the following facts, they would find it seamless and easy.
You can opt to apply for either of the work passes -Employment pass or EntrePass, if you wish to start a company in Singapore and relocate.
Alternatively, you can appoint a local director for your new company & stay back at your home and can operate the business from there. Securing a Visitor's visa is sufficient for you whenever you wish to visit the Republic on the short-term basis.
Engage an incorporation specialist for handling all the end-to-end task of company registration. Hand over all the KYC documents, in addition to the incorporation documents to them.
Also Read: How Can a Foreigner Start a Business in Singapore
Documents Required for Company Registration:
Registered company name
A brief description of business activities
Details of Singapore registered office address
Particulars of shareholders
Particulars of directors
Particulars of company secretary
A copy of Singapore identity card of local director and shareholder(s)
A copy of passport and residential address proof (overseas) of foreign directors & shareholders
Memorandum & Articles of Associations (in case of foreign company)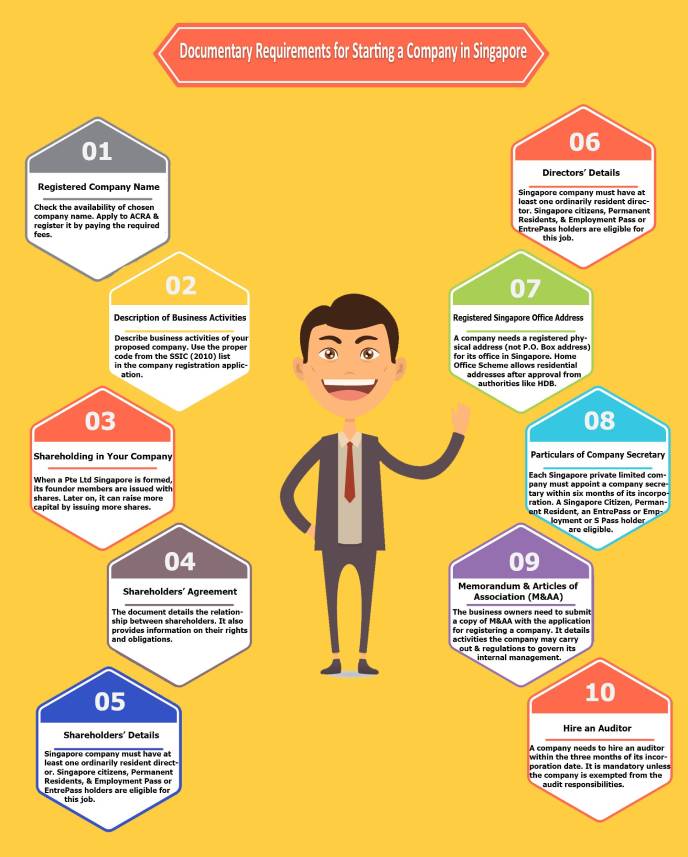 Singapore Company Registration: The Procedure and Timeline
The process for company registration in Singapore is fast, efficient and straightforward. There are no red-tape or bureaucratic hurdles in it. Your incorporation agent can initiate it after receiving the required documents & fees from you. The entire procedure involves two steps
1) Company Name Reservation, and,
2) Company Registration (filing of application form with ACRA, the Company Registrar)
Step 1: Company Name Reservation
To register a company in Singapore, you need to have a registered company name. Select two to three company names and pass them on to your incorporation agent who will check their availability with ACRA.
Your application may require an approval of external authority if the company name includes certain words such as the "Bank," "Finance," "Educational," "Media," etc.
The chances of quick approval of company name will be higher if you ensure to keep the following things in mind.
The name must be,
Unique, meaningful, easy to read and devoid of the vulgar or obscene word.
Free of copyright issue. It should not infringe any trademark.
Once the company name is approved, it will be automatically reserved for 60 days from the date of application. You are advised to incorporate the company within the specified period. However, your agent can ask for an extension of another 60 days by filing a request on your behalf.
Step 2: Company Registration
Upon approval of company name, you can apply for company registration. It should not take much time to accomplish the process assuming documents are in order.

Post-Registration Formalities
Certificate of Incorporation
The Registrar of Companies, i.e., ACRA will send an email confirming the successful incorporation of the company. It includes the company registration number. This soft copy is treated as the official certificate of incorporation in Singapore. However, your agent can obtain the hard copy of the certificate by making an online request to the authority. A nominal fee will be applicable.
Company Business Profile
You can obtain company business profile from the authority right after the incorporation. It contains particulars of the company and can be availed by making an online request with a small application fee. It will be available in PDF file format which can be downloaded within an hour of the request.
The Company Business Profile entails following key details:
Company name and registration number
Previous names for the company, if any
Registration date
Principal Business Activities
Paid up capital
Registered address
Particulars of Shareholders/Directors /Company Secretary
The soft copies of both documents (certificate of incorporation and company business profile) are enough for fulfilling all legal and contractual activities including bank account opening, signing of office lease, subscribing to office utilities (the internet, telephone), etc.
Following are the other items or documents you need after the registration of new company:

Company's Rubber Stamp: The company's rubber stamp is an element that lends credibility to the company's document. It has the name and registration number of the company engraved on it. The rubber stamp makes the official documents of the company look more authentic and professional.
Company Seal: Just like Company's rubber stamp, it is a legal requirement to have a company seal for every Singapore-based company. It mostly used in documents such as share certificates, loan documents, and any legal documents
Share Certificates: The company secretary must issue share certificates to each of the shareholders. It serves as the proof of their ownership in the company and shows how share has been distributed among the shareholders.
First Board Resolution: The resolution to appoint directors and other company officials like an auditor, the company secretary, etc.
Certificate of Incorporation
Opening a corporate account in any of the banks in Singapore is mandatory after company incorporation in Singapore. The major banks you may consider are HSBC, DBS, OCBC, Citi Bank, Standard Chartered, UOB, etc. Nowadays to fulfill the norms of KYC, many banks demand the physical presence of the company stakeholders for opening a corporate bank account.
Obtain Business Licenses and Permits
It all depends on the company's business activities whether you need to obtain one or more business licenses and permits for your newly incorporated company. It is notable that licenses must be obtained before commencing the business operations. Not all companies require licenses. Luckily, only a few business activities such as restaurants, cleaning business, educational institutes, travel agencies, financial services, import/export of goods need to secure the business license.
GST (Goods and Service Tax) Registration
If the expected annual turnover of your new company is more than S$1 million, your company must register for GST. It is an indirect tax levied on consumption of goods and services in Singapore. In many other countries, GST is also called as VAT (Value Added Tax). Being a GST-registered company, you will need to charge the applicable GST rate (7%) to the consumers of your goods and services. And, the amount has to be remitted to the tax authorities. GST filing is a compliance requirement for all GST-registered businesses.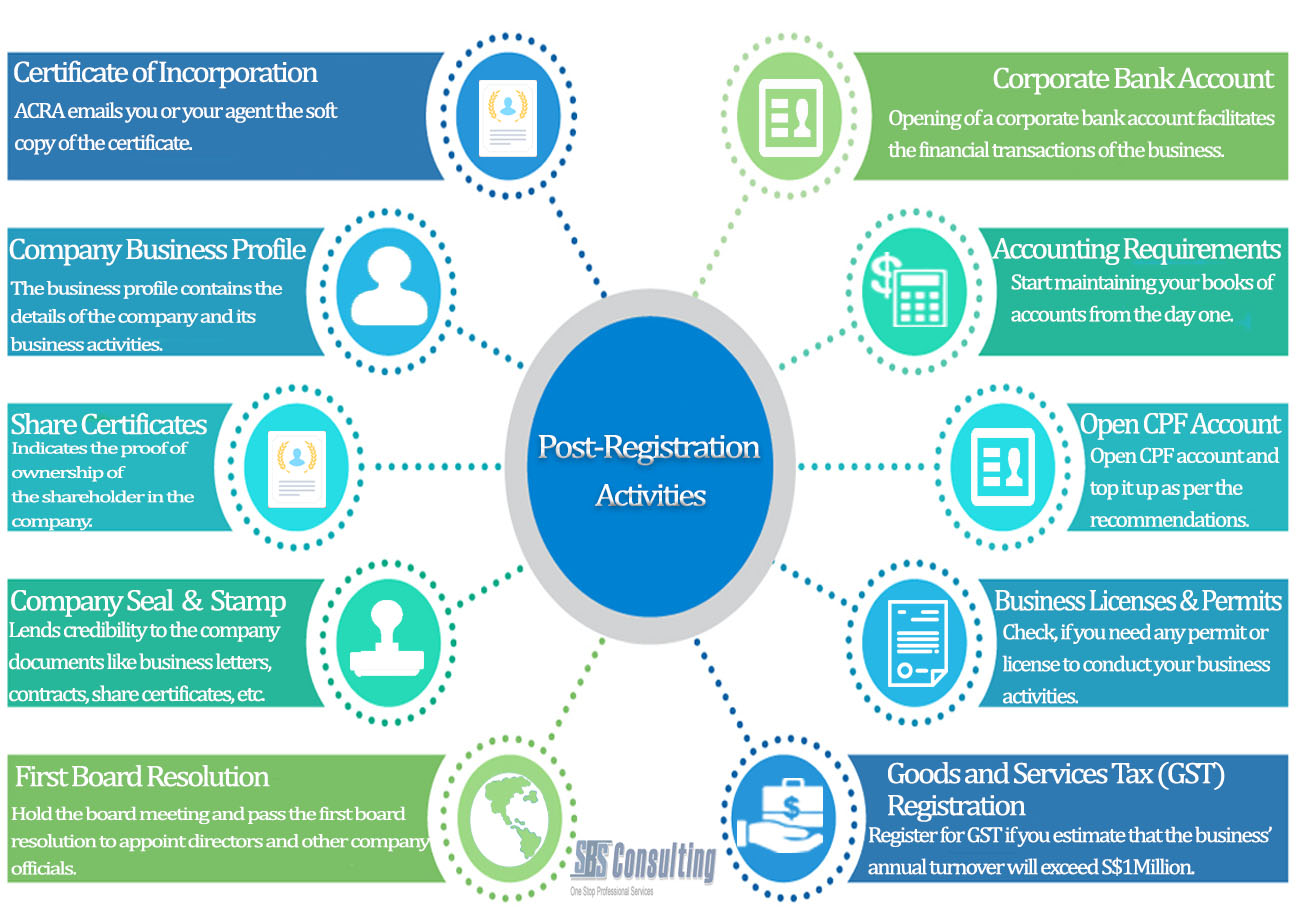 Each Singapore-incorporated company must fulfill a set of annual filing requirements to stay compliant with the law.
GST (Goods and Service Tax) Registration
Accounting Requirements: All Singapore companies must maintain their accounting books in order. Be it the general ledger, accounts payable and account receivables, or fixed asset ledger; every account must be maintained on a timely basis. The annual financial statement must be prepared and filed with the authority in XBRL format.
Convening of AGM: It is a mandatory requirement for every company to hold its AGM in every calendar year. The financial statements of the company are tabled for shareholder's approval.
Annual Returns Filing: Filing of Annual Returns has to be done after one month from the date of AGM of the company.
Corporate Tax Filing: The last dates of tax filing for companies are 30 November (paper-filing) and 15 December (e-filing).
Financial Year Determination: Every company in Singapore is free to determine its financial year. It does not necessarily need to be January to December or April to March accounting cycle. The financial year (accounting cycle) can start in any month of the year.
Funding Assistance of Singapore Government to Startup Businesses:
The government of Singapore has played a vital role in turning the business ecosystem of the nation into extremely start-up friendly. The availability of a series of funding assistance from Singapore government is counted to be one of the key perks of Singapore company registration. The government has pumped tons of money into these schemes. It is a part of government's initiative to provide succor to the entrepreneur aspirants who often fails achieve their dream of entrepreneurship due to the shortage of money or tight budget.
You can tap into schemes like SPRING SEEDS, ACE Startup Grant, TECS, ComCare Enterprise Fund to leverage your innovative ideas or technology to form a business venture. Apart from these, there are many other cash grants, incubator, and equity program available in the city-state.