Registering an Offshore Company in Singapore
Last modified: May 4, 2020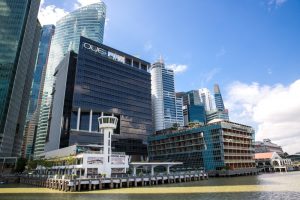 Are you wondering whether to set up an offshore private limited company in Singapore or not? A large number of multinationals and SMEs have already done their offshore company formation as the move helps them in furthering their corporate goals.
The business hubs like Singapore provide them with financial, legal, and tax benefits to entice them to their shores. Why? It is a very straight-forward way for these countries to attract foreign investment.
Why Register Offshore Company in Singapore?
Singapore is one of the best destinations for your new company. The World Bank report places it at the 2nd spot for the ease of doing business indicator. It is a renowned financial, business, and transportation hub in the world. It is a clean and transparent offshore jurisdiction you can trust for your offshore company registration.
How to create an offshore company? Is the process too bureaucratic? Is it lengthy and involves bribes? How many licenses or permits it needs? Oh, take a break. If you are new to Singapore, you should try and damp down all these questions. Setting up a private limited company in Singapore is easy and takes no time at all.
Types of Business Entities in Singapore
If you are an individual entrepreneur, you can register following business entities in Singapore:
If you are a corporate looking for a foothold in Singapore, your options are as follows:
The process to open offshore company in Singapore has only two procedures in it;
Register company name and
Register company with ACRA.
Your offshore company formation agent will assist you in completing the pre and post company registration requirements put out by Singaporean Company Registrar (i.e. ACRA).

Pre Company Registration Requirements
Your Singapore company incorporation agent will inform you about the documents, processes, and the steps involved. A large number of business owners prefer to incorporate private limited companies. The following are the requirements for setting up a private limited company.
At least one shareholder
At least one resident director
At least one company secretary
Minimum of $1 as initial paid-up share capital
A registered physical office address in Singapore. P.O. Box address is not valid
Incorporation Documents For Foreigners
For your speedy and prompt offshore company registration, you will need to submit following documents to comply with the norms laid down by the ACRA:
Description of business activity
Memorandum and Articles of Association (M&AA)
Copy of passport
KYC documents- Overseas residential address proof, Bank reference letter, Personal and business profile, Particulars of directors, company secretary, and shareholders
For Singaporean Business Owners
Copy of Singapore Identity Card
For Corporates
Copy of their Certificate of Incorporation and Constitution
Getting Company Name Approved by ACRA
When you hire one of the offshore company formation agents, they expect a list of 5-6 names. They search for these names on the ACRA website for the availability and pay the fees to reserve one for your use. It will give you a breathing space of 60 days. Your agent, if the need arises, can get the period extended by another 60 days.
ACRA, the company registrar of Singapore, has laid down a few rules regarding the name of the proposed company. It wants to keep the company names unique, meaningful, and decent. It cannot be from the black-list or vulgar. The name should not be identical to that of any existing companies. It should not violate any copyright or trademark laws.
Applying to ACRA for Offshore Company Formation
Your offshore company formation agent can then apply to ACRA for the registration of your Singapore company. In most of the cases, the process takes a very short time.
If your application gets passed on to an external authority, then it may take time to get approved. You may come across such a situation if your businesses fall under niches like Education, Finance, and Casino which are highly regulated by the government authorities.
"How to create an offshore company in Singapore?" is not a very difficult question to answer and there are offshore company formation agents to assist you with it. Singapore company registration process is very similar to both the foreigners and locals. It is also without any bureaucratic hurdles. After opening an offshore company in Singapore, you may still need help to open a corporate bank account, obtain business licenses and permits, get GST Registration, open CPF account, etc.
If you are thinking of setting up an offshore company in Singapore, please email us at info@sbsgroup.com.sg or contact us using +65-6536 0036
*All prices exclusive of 7% GST (Goods and Services Tax)