Who can Register a Company in Singapore?
Last modified: November 11, 2020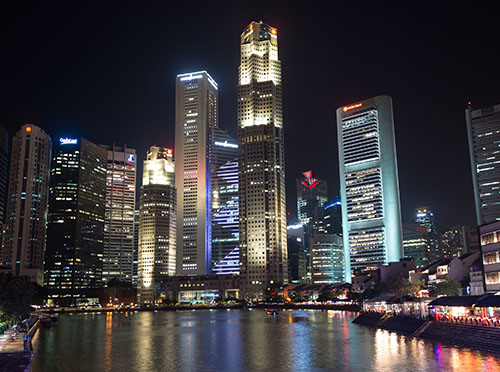 In the eyes of global investors and entrepreneurs, Singapore is increasingly becoming a force to be reckoned with. Many of established and young entrepreneurs flock to this island nation with a dream to make their presence felt in the market.
When you think of venturing out on the shore of Singapore for your own business, there may be some questions lingering in your mind like, "Who can register a company in Singapore?" or "What are the eligibility criteria?" This blog will unveil the answers to your unresolved questions.
Registering a Company in Singapore
Any local or foreign individual 18 years and above is allowed to incorporate a company in Singapore as long as he/she is in compliance with the statutory obligations of ACRA (Accounting and Corporate Regulatory Authority). Apart from this basic requirement, the person must not be convicted of any misconduct or bankrupt.
Essentially, ACRA, the company registrar, recommends to the foreign individual to seek the assistance of professional company secretary services provider offering to set up a company Singapore. The Company Law does not permit a foreigner to act as a local resident director, which is mandatory for Singapore company registration.
Director
A director is a person liable for managing company's performance, compliance issues and finance. As per the Singapore Company Act, there should be a minimum of one director. Similarly, at least, one director must be ordinarily resident in Singapore.
A Singapore citizen, Permanent Resident (PR) or holder of the passes such as Employment Pass (EP), EntrePass (Entrepreneur Pass) and Dependant's Pass can also act as local director.
The director of the company must take decision objectively and act in good faith in the best interest of the company.
There is no upper age limit for a director.
If a director breaches his duties or responsibilities, he/she may be subjected to either civil or criminal liabilities or both.
Company Secretary
Every Singapore incorporated Company must appoint a company secretary within 6 months from the date of its inception. Like the local resident director, the company secretary must reside locally in Singapore as a citizen, PR or the holder of EP, EntrePass or Dependant's Pass. If the company has more than one director then one of them can also act as company secretary as long as he meets the requisite conditions of ACRA.
The corporate secretary of a public company must adhere to the section 171(1AA) of the Singapore Companies Act. However, there is no stringent law that applies to the secretary of private limited companies. Having sound knowledge of Companies Act and other compliance matters of ACRA and IRAS is what necessarily needed in this concern.
Shareholders
The number of shareholders in a private company is limited to 50. Both, individual or corporate, can become a shareholder of a company. The best perk is that the foreign entities can entirely own a company's shares. The shareholders are not legally held accountable for the debt or loss incurred by the company. The director can also act as a shareholder of the company.
After reading the facts above, you, now, should have a fair idea of about 'who can register a company in Singapore and what are the eligibility criteria'. The process of incorporating a company Singapore is relatively simple and straightforward. Most importantly, many foreigners find it to be fuss free and devoid of red-tapism. A third party firm can make the process even easier through the expertise and experience of its professionals. If you want to take the plunge, hire an incorporation specialist like SBS Consulting and explore the world of endless opportunities of business.