SBS Consulting Decodes The Complicated Singapore Company Registration Guide In An Easy Way
Last modified: May 12, 2020
Singapore is a business friendly city, attracting a host of entrepreneurs from all over the world. Thanks to the Singaporean government and their flexible corporate governance policies, due to which Singapore emerged as one of the topmost places for company incorporation.
Small and Medium Enterprises (SMEs) in Singapore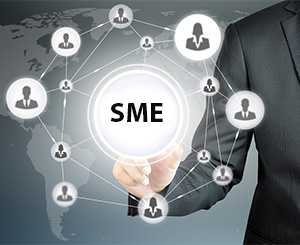 To a certain extent, the wide range of Free Trade Agreements and Avoidance of Double Taxation Treaty with different nations has further enhanced the Singapore's reputation of being an investment haven. Shifting its focus from MNCs and brand companies, in the last decade, Singapore policy makers have perpetually focused on the development of the Small and Medium Sized industrial sector in Singapore. As a result, SMEs became so lubricant in the Singaporean economy that without their assistance Singaporean economy might find it hard to survive.
Although the procedure of setting up of a company in Singapore is easy as it seems, many entrepreneurs and investors are confused about selecting the appropriate type of business entity. Each business entity in Singapore is subject to diverse regulatory and tax regimes. These regimes directly reflect the organization and ownership of the company.
Types of Business Entities in Singapore
Limited Liability Company
A company limited by shares wherein the company's liabilities are limited to the amount of share capital. Registered with ACRA and being a separate legal entity from its members, the liabilities of owners in the LLC are limited to the assets in the company, thereby protecting their personal assets. A Limited Liability Company can be of two major types
Private Limited Company
Exempt Private Company
Subsidiary Company
Public Limited Company
Public Company Limited By Guarantee
Sole Proprietorship
A sole proprietorship company is never considered a separately incorporated entity, so the owner and the business are the same. The owner is allowed to personally own the assets and liabilities of the business without giving any protection for owner's personal assets against the risks and liabilities arising in business.
Partnership
By allowing two or more people for incorporating and co-owning a business, a partnership company overcomes the limited expansion constraint usually experienced in the sole proprietorship business entity. This business entity has no separate legal existence from its partners. This type of legal business entity comes to an end only after the death, insolvency, incapacity or after the retirement of the partner. Singapore offers about three prolific options for incorporating a partnership company in Singapore
General Partnership
Limited Partnership &
Limited Liability Partnership
Foreign Company Registration
Foreign companies interested to set a foothold or have a presence in the Singaporean economy have three definitive choices to open company in Singapore
Subsidiary Company
Branch Office &
Representative Office
Understand The Minimum Requirements to Incorporate a Company in Singapore
At least one shareholder(According to Singapore Companies Act. 100% Foreign share ownership either by an individual or by a legal entity is allowed).
At least one Director,who has to be either permanent Singaporean resident or a foreigner having a valid Employment Pass (According to Singapore Companies Act. There is no restriction on employing additional local or foreign directors).
At least one Corporate Secretary,who also has to be a Singaporean resident and qualified enough to take over the responsibility (According to the Singapore companies Act. It is necessary to hire a Company Secretary within six months of incorporation and must possess a relevant experience to handle the Company Secretary role as per the Singaporean laws).
Having a local registered address in Singapore is a crucial requirement for setting up your company in Singapore (PO Box addresses are strictly not allowed).
At least one Singaporean Dollar as an initial paid up capital (According to Singapore Companies Act. For incorporating a Pte Ltd company in Singapore there is no need to have a minimum paid-up share capital).
Documents Required For Company Incorporation In Singapore
For Singapore Residents
Copy of Singapore Identity Card
If the individual is not a Singapore resident then a copy of passport
For Non-residents
Copy of passport
Copy of residential address proof like recent utility bills
For Corporate Shareholders
Copy of the Foreign Corporate Company Certificate
Special Directors Resolution for resolving or being a newly incorporated company subsidiary shareholder
Understanding The Procedure To Incorporate Company In Singapore
For a foreign individual or a company it is mandatory to hire a professional incorporation firm within Singapore
Foreigners interested in incorporating a Singapore company need to apply for an EntrePass and get it approved before proceeding for the actual company incorporation procedure.
Note: It is necessary to manage a registered office in Singapore before incorporation. Registering a property under the Home Office Scheme (HO) will probably solve this problem.
The first step of the Singapore company registration is to get the proposed business name approved by the company registrar or by the ACRA. The Singapore Companies Act has laid down certain guidelines to get the business name approved and a newly incorporating company should adhere to these guidelines.
After the approval of a business name, ensure you prepare and file below-mentioned documents with the ACRA:
Memorandum & Articles of Association describing the objectives and bylaws of the proposed company
Statutory Declaration of Compliance (Form 6)
Certificate of Identity (Form 7)
Notice of Situation of Registered Office and of Office Hours at time of Incorporation (Form 44)
Consent to Act as Director and Statement of Non-disqualification to Act as a Director (Form 45)
Other important things that you will almost need at the time of Singapore Company Registration are
Share certificates for each shareholder
Share register showing the number of shares allotted to individual shareholders
Company seal &
A rubber stamp for the company
Procedures to follow Post Successful Company Registration
Open a Corporate Bank Account in any of the major Singaporean banks.
Applications for business licenses, if your intended business activities need licenses to commence business operations.
Go for voluntary GST (Goods and Service Tax) Registration, although it is mandatory for companies with projected turnover exceeding SGD1 million.
Everything in place and after every major procedure to company incorporation singapore has been taken care of, concludes the entire procedure to open a company in Singapore. Now you are free to start your business activities and enjoy trading in an economy of one of the most flourishing countries.