Definitive guide to registration Company Singapore Vs. Hong Kong
Last modified: December 18, 2018
Are you toying with the idea of starting a business in the Southeast Asian region? And where to find data comparing startup in Hong Kong Vs Singapore startup? It is quite easy to get confused between the two-leading trade-based economies viz. Singapore and Hong Kong for your company incorporation. Now, the question is which one to pick to base your company in?
Doing Business in Singapore Vs Hong Kong
For last few decades, both the jurisdictions have been attracting global entrepreneurs with their pro-business policies, world-class infrastructure, strong legal system and easy company incorporation process. Are you now wondering which jurisdiction is better? It is the most debated question when it comes to company incorporation Singapore vs. Hong Kong.
A couple of decades ago, Hong Kong was a more popular destination for the expats than Singapore because of the business opportunities. But, today things have been changed, and Singapore has fast caught up the pace of competition, and the Lion city has become the most popular business hub for the expats.
This blog excerpt will outline a comparison report of company incorporation in Singapore vs. Hong Kong. Let us leaf through the below report to know the differences and similarities between Singapore and Hong Kong regarding company registration.
Geographical Location: Singapore & Hong Kong
Geographically, Singapore is ideally located between the East and the West. It took the benefit and rose as an Entrepot to serve both ends. It offers great port facilities and has connections with the more than 600 major ports distributed throughout the world.
The shipping port of Singapore deserves a special mention. It is one of the busiest and oldest ports in the world. Having an extensive marine services network, Singapore is the leading docking destination for trade.
Geographically, Hong Kong is also occupying a favorable location. It is close to China which ideally means that a business located there is close to more than 1.2 billion consumers.
Both, Singapore and Hong Kong give access to the emerging economies in the Asian subcontinent. These places are within a few hours of flight from them. Singapore's Changi Airport and Hong Kong's International Airport are deemed to be the best airports in the worlds. Both the airports provide easy access to all world's major cities. That is why either of them is highly convenient for the big companies to base their regional headquarters in.
Commodity Market
For several centuries, it has performed as a regional hub for commodities. Today, at least 280 global trading companies are registered in Singapore under the International Enterprise Singapore's Global Traders Program. A few of these companies represent top integrated energy majors and the largest agri-commodity groups in the world.
At present, a few of the Asian economies are growing at a faster rate than those in the rest of the world. They are experiencing rapid industrialization, urbanization, and growing affluence. It presents a great opportunity for the commodity companies.
By ensuring a foothold in Singapore, they get to stay close to the key physical trading markets in a place that is home to highest producers and consumer of commodities. Contrary to this, Hong Kong is known for being the focal point of all maritime activities in Southern China.
Hong Kong Vs Singapore: Corporate Destinations
They are going neck to neck. Both, Hong Kong and Singapore have reliable legal and pro-Entrepreneur corporate systems. They are used to the English language as a means of business communication and other purposes. It is why business MNCs from other economies find them convenient which is the reason why these two jurisdictions compete for your Asia headquarters.
Both offer business owners, investors, and professionals the reliable banking, English systems, dependable legal systems, and lower tax rates. They are smaller regions easy to govern. They are efficient at managing their tax income and can pass on those savings onto its taxpayer, both, individuals & corporates registered there.
You do not need to collaborate with a local partner for incorporating a company in both the regions. The foreigners enjoy 100% ownership of the company. The MNC's love to base their Regional offices or Asian Headquarters in these countries. However, their targeted business destination may affect the choice of place.
Company Incorporation Singapore Vs. Hong Kong
Singapore and Hong Kong are renowned for easy and convenient company incorporation processes. On some of the aspects like Hong Kong Vs Singapore income tax rate, you will find that they are almost equally matched.
Both the economies are ranked in top two positions of the World Bank's Ease of Doing Business Report.
Also Read : How Can a Foreigner Start a Business in Singapore
Pre-Requirements: Company Incorporation Singapore Vs Hong Kong
When it comes to registering a company in Singapore or Hong Kong, there are hardly any technical difficulties for the entrepreneurs. Both the jurisdictions attract a hoard of them each year. However, Singapore attracts more tech-oriented businesses whereas Hong Kong seems to attract China-centric businesses.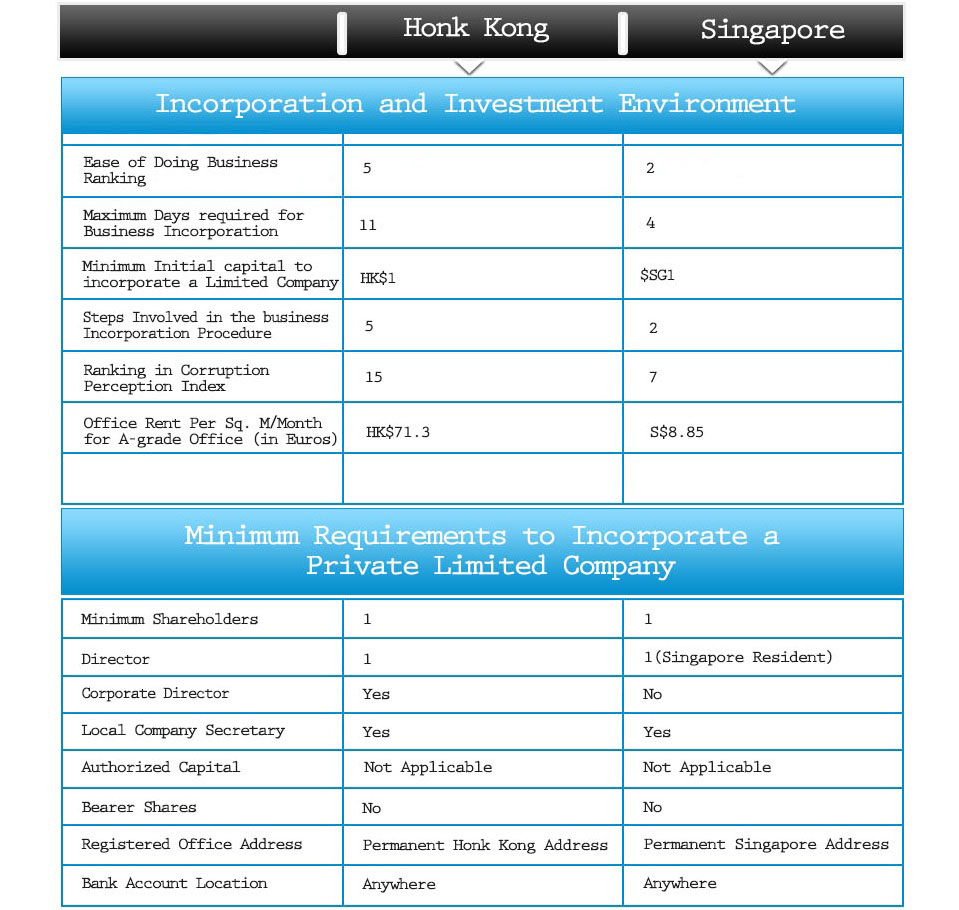 A sole foreign director is free to start a company in Hong Kong. However, Singapore company incorporation requires a foreigner to appoint a local director or get an Employment of EntrePass visa to work in Singapore.
Taxation Policy of Singapore & Hong Kong
The high rate of taxation can bleed the money out of businesses. This is where Singapore scores high over other jurisdictions. The effective corporate income tax in Singapore is between the range of 8.5%-17%. It also provides various tax rebates, benefits, and exemption schemes to the startups and existing business to bring down their overhead costs.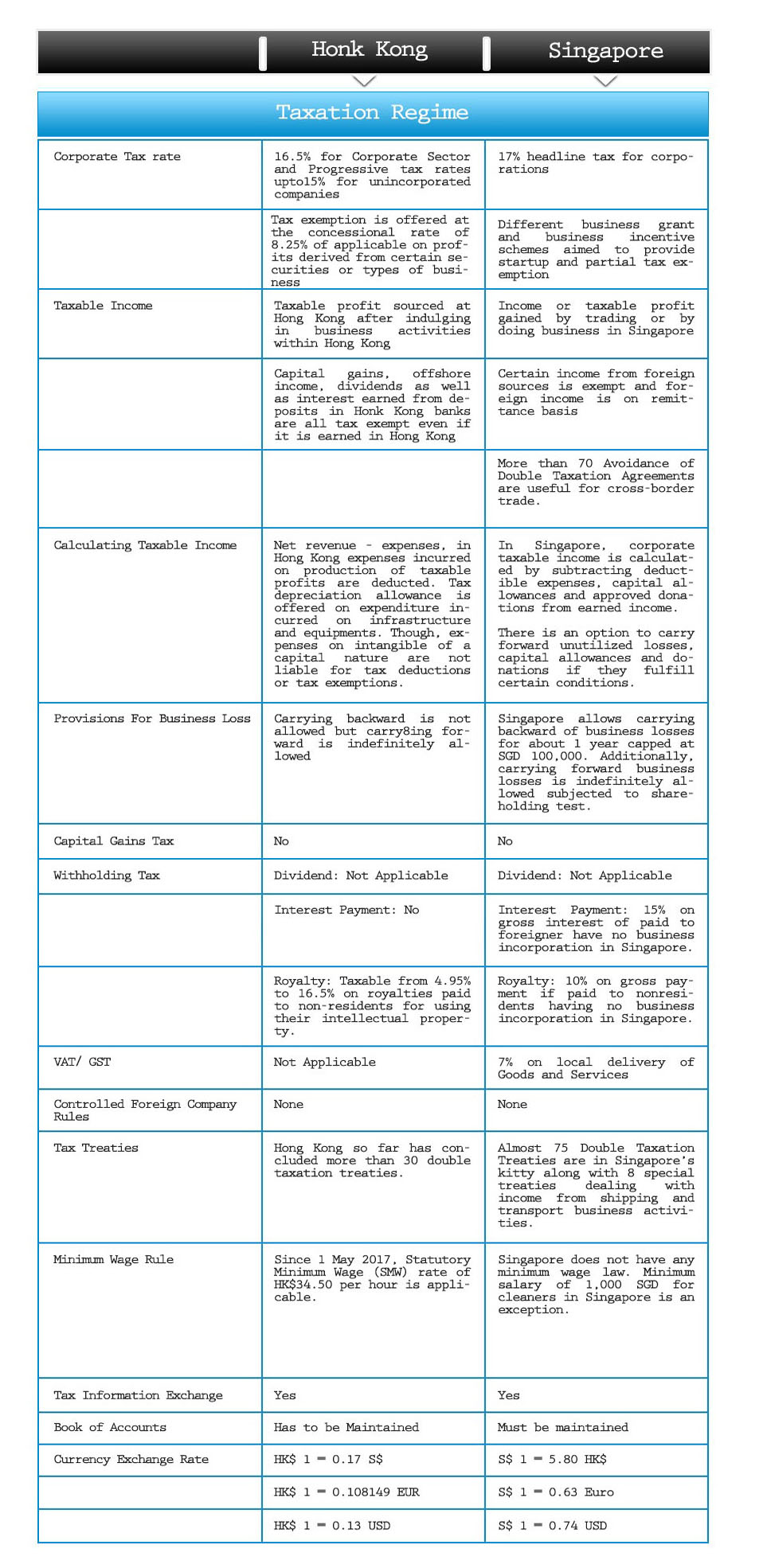 Business Travels
If you are visiting Singapore or Hong Kong for the first time maybe you would like to know how to proceed to the city center. After landing at the airport, you can take airport shuttle service, taxi, or a train. The fare for the taxi may change depending on the peak-hours or off-peak hours.

Workforce Quality: Singapore Vs. Hong Kong
Both the places boast of highly talented, skilled and experienced resources. While Hong Kong has the more local pool of talent, Singapore is home to trained and qualified locals and expats.
Despite English being the language of business communication, the majority of Hong Kong workforces is more comfortable conversing in Cantonese and Mandarin. The reason is being its proximity connection to China.
Singapore has the edge over Hong Kong in this matter as the human resources of the city-state have prowess in speaking good English. It is one of the reasons why the city-state successfully attracted MNCs. Currently, it is home to more than 17,000 foreign & multinational companies. In 2016 alone, 64,937 new companies were registered in Singapore. Lastly, the cost of labor is higher in Hong Kong when compared to Singapore.
Banking
The banking sector is strong and offers great opportunities in both regions. The businesses benefit from online banking and can easily do large financial transactions with their global partners in multiple currencies. Such transactions do not raise any red flags with the banks resulting in the blocking of accounts. Both the regions are pro international business.
All over the world, the regulating agencies are tightening the rules and regulations prompting banks and financial institutes to demand more paperwork from their clients and follow stringent KYC (Know your Customer) procedures.
Both, Singapore and Hong Kong are no exceptions. However, this, unfortunately, has resulted in increased the bank account application fee. The banks, depending on the circumstances, may or may not absorb the full KYC costs and hence, most of them are passed on to those wishing to open new accounts.
Fundraising
Although banking is great in both regions, Singapore outshines when it comes to fundraising. The scenario of getting investment money for startups and entrepreneurs is truly commendable in Singapore. The government has rolled out dozens of funding assistance in the forms of cash grants, equity plans, incubator schemes and so on. It also backs some Venture Capitalists and Angel Investors by matching the funds they invest in startup companies.
This factor contributes to the Singapore's reputation as a vibrant startup ecosystem. It is worth noting that hordes of entrepreneurs in Hong Kong go to the city-state to raise the capital of their companies.
Hong Kong: Gateway to China
Hong Kong served as the Gateway to China, during the initial stages of opening of the Chinese economy. It is more suited to the businesses that are more focused on doing business in China. Today, of course, its role is a bit diminished but it still a formidable business hub.
Singapore: Gateway to South East Asia
The last couple of decades have seen the emergence of Singapore as a trusted business and financial hub. The business owners, now, look upon it as the Gateway to South East Asia. It has taken the lead over other jurisdictions in the region in attracting entrepreneurs and businesses. Starting a Singaporean company is easy and straightforward. Registering these legal entities are very conducive to doing business with global markets and large capitals.
Despite lots of improvement in the startup system of Hong Kong, it is still lagging far behind Singapore. It is no wonder comparison of Singapore Vs Hong Kong business scenario technology-wise goes in former's favor. Singapore is recommended for those who wish to start tech startups and raise venture capital.
The other aspects such as quality of life, the legal system, political scenario, infrastructure quality, etc. of both regions are at on par with the international standard. Differences and similarities do exist in every aspect.
Final Note
While Singapore can be rightly called as "Gateway to Southeast Asia," Hong Kong is "Gateway to China." Overall, it is neck to neck race. Singapore has widely been accepted by the foreign entrepreneurs and investors for its cosmopolitan culture, English language communication practice, stable and supportive government and other business advantages.
You can see that both regions have their distinct advantages and disadvantages. The choice of a jurisdiction to register your company to a large extent depends on your business goals and destination. Use the company incorporation Singapore Vs Hong Kong comparison as an aid to your research.