What Sets Company Registration in Singapore Apart from its Neighboring Peers?
Last modified: October 21, 2021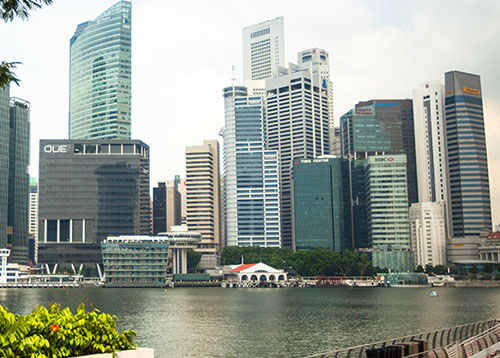 Are you planning to launch your new venture or expand your on-going business in any of the Asian countries? Now, you may be wondering which business destination will give you optimum growth and recognition. In that case, you are most likely to end up zeroing on three booming business hubs such as Singapore, Hong Kong, and Malaysia on your list. All three of the business hubs of Asia has their unique advantages and strength, which could potentially be beneficial, based on the nature and type of industry you intend to enter in. It is worth mentioning that Singapore company incorporation has gained immense popularity among the global entrepreneurs for its own distinctive set of advantages.
This blog will unveil the various benefits of incorporating a company in Singapore. Let us leaf through a comparison report of all three leading business hubs in the Asian region. This analysis will help you decide which country is best as per your requirements for company incorporation.
check the Comparison below
Singapore
Hong Kong
Malaysia
Official Language
English, Malay, Tamil
Cantonese, English
Malay with English 2nd Language
Types of Business Structure

Private company Limited by Share
Public Company Limited by Guarantee
Sole-Proprietorship
Limited Liability Partnership
General Partnership
Limited Partnership
Branch Office
Representative office

Limited Liability Company
Sole-Proprietorship
Limited Liability Partnership
Branch Office
Representative office

Private company Limited by Share
Sole-Proprietorship
Limited Liability Partnership
Branch Office
Representative office

Time Required for Company Incorporation
1-2 days
6-8 days
6-8 days
Corporate Tax Rates
17.00%
16.50%
24.00%
VAT/GST
7.00%
None
6.00%
Currency and Exchange Rate
1USD= 1.39 SGD
1USD= 7.76 HKD
1 USD= 4.21 Malaysian Ringgit
Capital Gains Tax
None
None
None
Double Tax Treaties
More than 75 Countries
More than 30 Countries
About 69 Countries
Requirements for Incorporating a Company
Shareholder-1 Director-1
Local company secretary -1 Authorized capital – NA
Registered Office- Yes
Shareholder-1 Director-1 Local company secretary -1 Authorized capital – HKD 10,000
Registered Office- Yes
Shareholder-2 Director-1 Local company secretary -1 Paid-up capital – RM100,000
Registered Office- Yes
From the above analysis, we can see that Singapore and Hong Kong have been doing their best to become the top places for doing business in the Asian region. Nevertheless, Singapore won the race in terms of time required for incorporating a company, availability of business structure types, currency rate, and double taxation treaties.
Most importantly, Singapore has been ranked #1 as the easiest place for doing business in the world, as per the doing business report of World Bank, for a decade.
What are the Benefits of Incorporating a Company in Singapore?
Singapore has established itself as a business epicenter in the heart of Asian region. The headquarters of many corporate giants have based in Singapore, and it is the home to around 26,000 international companies. So, it is obvious that there are numerous benefits of setting up a business in Singapore. Factors such as strategic location, pro-business policies, and talented workforce are to name a few.
Location: The city-state is strategically located at the heart of Asia, and it provides easy sea and air links to the major regions in the Asia-Pacific, Europe, America and the Middle East. Being the home to world's busiest port with an extensive network, Singapore is the top docking destination for trade.
Ease of Doing Business: Company registration in Singapore process involves very minimal bureaucratic hurdles. It is just a two-steps process and can be completed in 1 to 2 days.
Taxation: One of the key concerns of investors while doing business is the structure and rates of tax. The Republic has one of the progressive tax systems in the world where tax rates are low with plenty of tax benefits for both start-ups and existing companies.
Availability of Grants and Funds: Plethora of traditional sources, including bank, venture capitalists, private funds, are available in Singapore. The best part is that government-backed funding assistance for start-up companies are also available in abundance.
Well-qualified Work Force: Singapore has a pool of highly educated, motivated, skilled and productive local workforce, who are proficient in English speaking. A well-defined work pass system allows the companies to hire qualified foreigners.
Strong IP Protection Law: The city-state ranks one in Asia and second in the world for intellectual property protection. The strong IP law of the nation serves as one of the key reasons to attract the global entrepreneurs to Singapore.
Singapore Company Registration: A Quick Guide
The Accounting & Corporate Regulatory Authority (ACRA) is the national regulator of company registration in Singapore. Successfully complete the incorporation process in two steps –
company name approval and
company registration.
You can register a company in Singapore using an electronic filing system called Bizfile+. However, a SingPass id is required to log-in into the BizFile+. Foreigners are advised to take the assistance of trusted company incorporation services provider such as SBS Consulting to carry out the process in a seamless manner.
If you have a sound business idea in mind, no need to think further. Just contact a reliable Singapore company registration services provider, complete the legal requirements and finally take the plunge into company incorporation to fulfill the dream of becoming an entrepreneur in the most sought after business destination in the Asian region.