Singapore is a Better Place for Company Incorporation: Simple Two-Step Registration Process
Last modified: February 11, 2021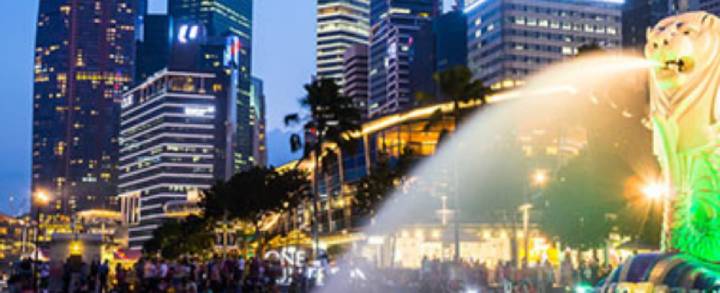 Ranked at #2 position in 2020 for the 'Ease Of Doing Business' indicator, Singapore is an excellent destination for a startup company registration for those living abroad. Singapore allows 100% foreign ownership, low tax rates, and easy access to the immense potential of Asian markets.
Singapore is a Southeast Asian country and attracts thousands of individuals and business organizations for company incorporation in Singapore. This garden city offers outstanding business opportunities to the business explorers. In this blog, we are about to consider the top five reasons why global entrepreneurs and companies choose to incorporate a Singapore company.
Ease of Doing Business Indicators for 2020
| | | |
| --- | --- | --- |
| Indicator | Rank | Score |
| Starting a Business | 4 | 98.2 |
| Construction Permits | 5 | 87.9 |
| Getting Electricity | 19 | 91.8 |
| Registering Property | 21 | 83.1 |
| Getting Credit | 37 | 75 |
| Minority Investor Protection | 3 | 86 |
| Paying Taxes | 7 | 91.6 |
| Cross-Border Trade | 47 | 89.6 |
| Enforcing Contracts | 1 | 84.5 |
| Resolving Insolvency | 27 | 74.3 |
1. Ranked 1st for the 'Ease of Doing Business' Indicator
Singapore is the easiest country to do business in. The World Bank's Doing Business report 2020, ranks it at 2nd positions. Going beyond the efficiency, World Bank from June 2013-2014 measured 189 economies of the world and documented 230 business reforms. Of these, 145 reforms were aimed at reducing the complexity and cost of compliance, and 85 reforms were aimed at strengthening the legal institutions. Singapore is ranked at 4th position for 'Ease of Starting a Business' indicator.
2. Economy On-The-Go
As per the 2020 Index of Economic Freedom, Singapore is the topmost, freest economy in the world. During the 1960s to 1980s, Singapore was one of the newly industrialized countries overshadowed by the development of Hong Kong, Taiwan, and South Korea.
Its manufacturing industry attracted a huge number of multinational companies and foreign direct investment during this period. Using this as a foundation stone for growth and development, Singapore emerged as one of the most advanced and technologically driven economies of the world.
In 2003, Singapore, with a GDP growth rate of 14.471, became the fastest growing economy of the world after Qatar and Paraguay. As of now, the Singapore Model is looked upon as an innovative and highly successful economical system where both the market and state plays important roles.
Singapore is the only country to have acquired AAA credit ratings from all the three major credit rating agencies, namely Standard & Poor's, Moody's and Fitch. In addition, the average score for business freedom in Singapore is also exceptionally high. It requires only 1-3 days to start a new Singapore business compared to an average period of 34 days in the rest of the world.
3. Stable Political System
Even after 50 years of independence, Singapore enjoys an honest, trusted, and politically stable government. It is probably the only country in the world with forced independence. Reacting to its unexpected expulsion out of Malaysia in August 1965, Singapore successfully realigned its strategies, policies and business environment to achieve impeccable economic success.
Singapore is not only known for achieving the highest standard of living in Southeast Asia, but also for emerging as the hottest destination for the company registration. The political system in Singapore plays a major role in achieving maximum growth and the entire development of Singaporean society and economy. It is one of the least corrupt countries in the world. The legal system is transparent and efficient. There is no bureaucracy or red-tape involved when you opt for your company incorporation in Singapore.
4. Best Quality of Life in Asia
Considering the Mercer's Quality of Living Survey, Singapore though a costly city to live in, is the best choice for expatriates. It offers the best 'quality of life' compared to other destinations in Southeast Asia. On the Global, scale Singapore is placed in the 25th position, but in Southeast Asia, Singapore ranks at 1st position. Undoubtedly, Singapore is one of the most contemporary cities in Asia.
The telecommunication system, public transport system, adoption of latest technologies, quality medical facilities, safe and hygienic living environment, accessibility from other countries around the world, a superior educational system and a robust support system from government to offer the best quality of life a country can offer to its citizens.
5. Foreign Direct Investment in Singapore
Singapore has adopted a proactive strategy of openness in the trade to induce economic development that will eventually result in attracting more amount of Foreign Direct Investment (FDI). The World Bank has already ranked Singapore as the world's easiest country to do business in. Supporting the fact, a simpler regulatory system, flexible tax incentives, a high-quality industrial real estate park, outstanding political stability and equal to zero corruption rates make Singapore an attractive destination for FDI.
Singapore is the fifth largest country in the world to attract FDI and third largest amongst the East and Southeast Asian countries. In 2017 Singapore attracted USD 76 billion in FDI. In 2018 the amount rose to USD 78 billion. In 2019, The FDI flowing in Singapore jumped to USD 92 billion, branding Singapore as the 5th largest FDI recipient. In Sept 2020, Singapore attracted USD 15.4 billion in FDI.
Interested in Company Incorporation Singapore?
As an entrepreneur, you have, a wide variety of options in locations to start a new company, Singapore, for sure, remains one of the most sought after destinations company registration. Apart from the above-mentioned reasons, many other factors motivate global entrepreneurs to incorporate a Singapore company. The most flexible and convincing tax structure, state of the art business infrastructure, the world's busiest ports and the best international airport citizen, and highly educated, tech-savvy and highly skilled workforce are some of those factors. Together these factors have given company incorporation in Singapore a momentum.
You have 3 options in business structures in Singapore. They are as follows:
As of now, a large number of entrepreneurs planning to incorporate a Singapore company prefers a private limited company. Accounting and Corporate Regulatory Authority of Singapore (ACRA) is the regulatory and governing body that looks into the matters related to Company Incorporation. Thus, to register a business name or a company, you will have to apply to ACRA by following all the guidelines and regulations mandated by the Singapore Companies Act.
Singapore Company Registration Process
The process for a company incorporation Singapore is easy and can be completed in two steps.
Step 1: Registering the Company Name
You need to visit ACRA's BizFile+ portal to register a company name. ACRA charges a fee of S$15. It takes a day to do so. Ensure you follow these guidelines while registering your business name:
Company name should be unique and decent
It should not be black-listed
It should not violate any copyright or trademarks
Obscene or vulgar names are rejected
Step 2: Incorporate a Singapore Company
With an approved company name, you can move ahead with company registration with ACRA. For a company incorporation Singapore, you need:
To appoint at least one resident director who is over 18 years of age and is an ordinary resident of Singapore
A private limited company can have 1-50 shareholders
Least Paid-up initial capital required is S$1
Appoint a resident company secretary within six months after incorporation
A registered Singapore office address either in the commercial or in the residential area. P.O. box address is not valid
Singapore allows 100% foreign ownership. However, the company director should be a Singapore citizen, Permanent Resident, or an EntrePass Pass holder.
Overall, the company incorporation in Singapore is a hassle-free process. If all your incorporation and KYC documents are in place, ACRA can register your company in 1-3 days. After successfully doing so, the company registrar will send you an email containing the 'Certificate of Incorporation', Unique Entity Number, and business profile.