Setting Up a Hong Kong Business in Singapore
Last modified: October 21, 2021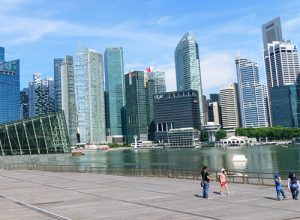 More than 17,000 foreign businesses are operating in Singapore. It is no wonder that businesses in Hong Kong also want to set up a company in Singapore.
Establishing a new company set up in Singapore is easy, even for foreigners. The process for company incorporation in Singapore is highly streamlined. It takes only 1-3 days. As per the Singaporean Company Law, foreigners can own 100% shareholding in their company.
However, foreigners cannot incorporate their Singapore company on their own. They need to appoint a registered filing agent to register their company.
Let us see how a foreigner can start a company in Singapore.
Requirements for Company Incorporation in Singapore
ACRA (Accounting and Corporate Regulatory Authority) also acts as the Company Registrar of Singapore. Before you apply to it to set up a company in Singapore, you need to be ready with the following requirements.
Initial Paid-Up Capital: Minimum of S$1 in initial paid-up capital
Shareholders: At least 1 and a maximum of 50 shareholders
Local Address: A local registered address for the company office
Local Director: Need at least one director who is ordinarily resident of Singapore (Citizen, Singapore Permanent Resident or EntrePass holder)
Company Secretary: At least one company secretary
Procedure to Register a Company in Singapore
If all the required documents are in English and are duly signed, submit them to your agent. They will be in a position to initiate the registration process.
Firstly, they will apply to ACRA and get approval for your company name. ACRA charges a fee of $15 for the name approval.
Secondly, they will apply to ACRA to register your company. ACRA charges $300 for company registration.
After the successful company incorporation in Singapore, ACRA sends an incorporation email giving you details of your new company. The email is equivalent to an incorporation certificate in Singapore.
Types of Singapore Business Entities
Private Limited Company (Pte Ltd)
Limited Liability Partnership (LLP)
Sole Proprietorship
Private Limited Company (Pte Ltd)
In Singapore, business owners prefer to register a private limited company. This business structure is dynamic and scalable as per the needs of a growing business.
This structure is preferred because it limits the liability of the business owners (shareholders) to the capital they have invested in the shares of the company.
Yes, You Can Relocate to Singapore
If you want to work in Singapore, you will need an Employment Pass. It means your company needs to apply to the Ministry of Manpower for the pass for you. After acquiring it, you can relocate to Singapore and take charge of your company as its employee earning at least $3,900. Your experience and age will have a bearing on the amount of your salary.
Singapore Corporate Tax
Singapore has adopted territorial taxation. It means income earned in Singapore will be taxed. And the tax amount is determined based on the income earned in the last years. Most importantly, your income earned in Singapore will not be taxed in Hong Kong.
The corporate income tax rate is 17%. However, eligible startups benefit from Tax Exemption Scheme for New Start-Up Companies. For the first 3 years, they get 75% tax exemption on their first $100,000 taxable income. Next, $200,000 of taxable income gets 50% tax exemptions.
The existing businesses get as much as 25% of corporate tax rebates (capped at $15,000). Under the partial tax exemption scheme, they get 75% of tax exemption on their first $10,000 chargeable income. Next, $190,000 chargeable income get 50% tax exemption.
Is SBS Consulting Pte Ltd, a Registered Filing Agent in Singapore?
Yes, SBS Consulting is an experienced registered filing agent in Singapore and offers specialized services for company incorporation in Singapore. We extend our expertise to our local as well as foreign clients.