Get to Know How You Can Incorporate a Private Limited Company in Singapore
Last modified: January 18, 2023
Theoretically, the process of Singapore company incorporation seems easy. However, it is practically difficult to process Singapore Company Registration. Thus, it becomes mandatory to seek assistance from professional firms offering Company Incorporation services in Singapore.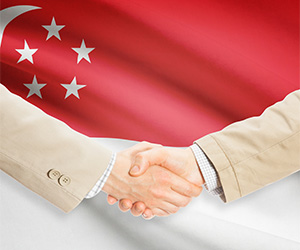 For seven consecutive years, the World Bank considers Singapore on the top slot for the ease of doing business. Every year, more and more international companies are transmigrating their key business management functions to Singapore. Due to the most stable government, Singapore was able to focus on developing its commerce and industry sector. Singapore is one of the five founding members of the "Association of South East Nations" (ASEAN). This is a geopolitical and economic organization, founded with an aim to accelerate economic growth, social progress and cultural development of all the participants. Therefore, Singapore is said to be a strong supporter of ASEAN Free Trade Area and the ASEAN Investment Area.
Because of numerous advantages offered by Singaporean business climate, increasing number of  entrepreneurs are looking forward to incorporate company in Singapore. There are different business structures in Singapore, as if, Sole Proprietorship, Partnership, Limited Partnership, Limited Liability Partnership, Private Limited Company, Branch Office, Subsidiary, and Representative Office. Therefore, it becomes important to choose the right business structure, that eventually will help in the growth and development of the business.
An overview of Singapore Private Limited Company
The business structure of Singapore Private Limited Company resembles a lot more to German GmbH.
A Private Limited Company (Pte Ltd) is supposed to be a legal entity separate and distinct from its members.
A Private Limited company in Singapore can purchase property in its own name.
A Pte Ltd company can be sued or can sue.
Members of Pte Ltd Company should not exceed more than fifty.
Members of Pte Ltd Company will have limited liability and will not be held personally liable for debts and losses incurred by the company.
A Singapore resident Pte Ltd company is liable for taxation as per the Singapore taxation regime.
It is required that the Pte Ltd company should appoint at least one director and one company secretary, who happen to be an original resident of Singapore.
Memorandum on Incorporating a Private Limited Company in Singapore
Getting Approval For The Proposed Company Name:
Under Section 27 of the Companies Act, it is required to register the proposed name of the your company. It is the first step in setting up a Singapore private limited company by shares. After reserving a name for the company, it will be effective for two months and no other company can use or register its business under that name. The power of discretion for extending the registering period for an additional two months lies solely in the hands of the registrar. Additionally, every newly incorporated private limited company in Singapore must have the words "Private Limited" or "Pte Ltd" as part of the company name as a suffix.
NOTE: Each business is allowed to register or reserve only one name at a time. A charge of S$15* is applicable for each name submitted for registration. Usually, it requires a single day for Registrar to grant approval of the name. If the proposed business name is referred to external authorities then a delay of a few days or weeks is expected to get the name approved. To extend the reservation period of approved business name, ensure to file an extension request and pay the prescribed fees before the expiry date.
Memorandum of Association:
As Singapore offers a free trade environment, a newly incorporated company has complete independence to enter into any business, any transactions or carry out any act necessary for business development. However, companies are provided with powers to include a Memorandum of Association describing the object for which company is incorporated, along with a list of powers that will be exercised by the company for achieving those objectives. This MOA will legally restrict the powers and activities of the company, according to the matter contained in the memorandum.
NOTE: It is necessary that Private Limited Company in Singapore must submit Memorandum and Article of Association to the Accounting and Corporate Regulatory Authority (ACRA) along with necessary incorporation documentation. The process has to be accomplished by abiding by the rules and regulations put forth by corporate governing authorities in Singapore.
Articles of Association:
Officially, Article of Association mandates the rules for internal management. There are certain strict rules regarding drafting and implementing matter contained in Article and Memorandum of Association. Certain firms offering Singapore incorporation services have ready made standard drafts designed as per the Singapore Companies Act. Moreover, with additional fees these firms are ready to customize content in the articles as per the necessity of individual businesses.
Capital:
There is no par value for shares of a newly incorporated private limited company. Thus, Private limited company Singapore can alter its share capital in many ways. The company is free to either consolidate or divide the share capital. If required, companies can convert all it's paid up shares into stocks.
Issued capital means, the total amount of capital actually taken up by shareholders. The issued capital can be either partially or wholly paid by up by shareholders as these shareholders have agreed to give share capital either in cash or in shares issued to them.
First Subscribers:
After Singapore Company Incorporation, it is mandatory for them to have at least one shareholder, subscribing to at least one share who should sign the Memorandum and Articles of Association. No restrictions are imposed on the foreign ownership of the companies when it comes to private limited companies in Singapore; however, he/she has to be present in Singapore for singing Incorporation documentation.
Directors:
According to the ACRA, guideline, during incorporation of a private limited company in Singapore, appointing at least one Singapore resident director is a must. On the contrary, a foreigner with a valid employment pass is also eligible to become director of Pte Ltd Company in Singapore. Additionally, a shareholder can act as a sole director of the company to facilitate the company incorporation procedure.  Remember, the appointee should be natural and above 18 years of age to hold the position of director.
Registered Office:
For the incorporation of a company in Singapore, it is necessary for the company to have a local registered address in Singapore. It does not matter whether this office is a place of business or not, but, it should be open to public for at least five hours during all working days. All the communication and notices will be sent to the same address, which should be made available to the public.
NOTE: Having a registered Singapore address is of utmost importance to successfully complete the Singapore company registration process. Under the "Home Office Scheme", (HO) you are allowed to register a residential property or flat. However, ACRA does not approve company registration with P.O. Box address.
Based on the lodgement of memorandum and articles of association along with other statutory documents and payment of the registration fees, a private limited company is registered in Singapore. Merely a period of a few hours to two days at most are required to complete the entire Singapore company registration process. Please note; the registrar has the discretion to either allow or refuse private limited company registration in Singapore based on different circumstances.
Company Secretary and Auditor:
It is required that the directors should appoint an Auditor within three months of company incorporation who happens to be an approved public accountant. However, with the effect from mandate released on 1 April 2004, dormant companies and private companies having a turnover less than $5 million are exempted from appointing auditors. Furthermore, directors should also take an initiative in appointing a company secretary within 6 months, after incorporation of the private limited company. The appointed company secretary has to be above 18 years of age and a permanent Singapore resident with relevant education and experience to dispose of the duties of a company secretary.
IMP NOTE: All the business entities including individual, firm or corporations carrying out businesses for a foreign company must be registered with the Accounting and Corporate Regulatory Authority of Singapore (ACRA). A foreign company interested to incorporate its business in Singapore will have to hire at least two agents providing Singapore company incorporation services to facilitate the process of opening business in Singapore.
*All prices exclusive of 8% GST (Goods and Services Tax)