Higher Salary Cap for Singapore Employment Pass holders Seeking Family Visa
Last modified: November 9, 2020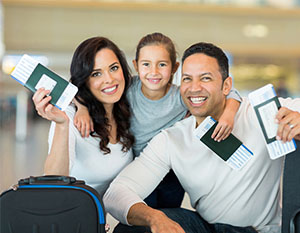 Keeping in view the growing concern over the ever-rising influx of foreign employees to Singapore, the government has taken various measures to tighten the immigration policies over the past few years. One of such measures includes raising the minimum salary thresholds of work passes, including that for the Employment Pass (EP) holder looking to bring family through the Dependant's Pass and LTVP (Long Term Visitor Pass).
The impact of this new move will be minimal on the Employment Pass holders wishing to incorporate a company in Singapore as they are less likely to bring their families, mainly due to the high cost of living.
Tightened Employment Criteria for EP holders looking to bring Family over
Effective from Sept 1, 2015, the minimum salary threshold for foreign employees seeking to bring their spouse and children to Singapore has been raised from S$4000 to S$5,000 per month. Similarly, the minimum salary bar for the foreigners looking to bring their parents on LTVP has also been increased to S$10,000 per month from previous S$8,000.
This new rule is also applicable to those foreign employees who switch their employer, as the Ministry of Manpower (MOM) treat them as a new applicant after the job change. Whereas, renewal of existing passes will not be assessed on the new criteria provided the main pass holder does not change employer. It is notable that the raising minimum salary bars do not apply to foreigners who already have their families here, or have already applied to bring them to Singapore (i.e. An application made before Sep 2015). However, they are facing restriction on job mobility.
Dependant's Pass can be applied for:
Legally married spouse.
Unmarried children under 21 years old, including legally adopted children.
Long Term Visit Pass (LTVP) can be applied for:
Common-law spouse
Step-child or handicapped child
Parents (EP holders earning over S$10,000 )
Glimpses of few other initiatives taken by the Singapore Government
The Singapore Government has taken every measure to strengthen the pool of local talents at all levels. Over the past few years, various initiatives have been rolled out by the government. As a part of the measure, the MOM has raised the minimum monthly salary benchmark for EP aspirants, to S$3,300 from S$3,000.
In addition to it, the MOM has introduced Fair Consideration Framework (FCF) (that came into effect on Aug 2014) with an aim to help small and medium enterprises hire local talents and improve employee training strategies. Under the FCF initiative, employers will be required to advertise the jobs to local Singaporeans on a bank job portal for a minimum period of 14 days before submitting an application for an Employment Pass. Many employers hire a registered filing agent for the task. It is anticipated that the Ministry of Manpower may lay down more stricter and rigorous foreign workforce policy in coming years.